SkyDesk offers clean, fully decorated, and furnished workspaces and conference rooms for entrepreneurs, small businesses, and any other individual or team looking for short-term office rentals.
Our offices and workspaces have stocked printers, reliable high-speed internet, desks, comfortable chairs, and everything else you need to get to work on making your business go.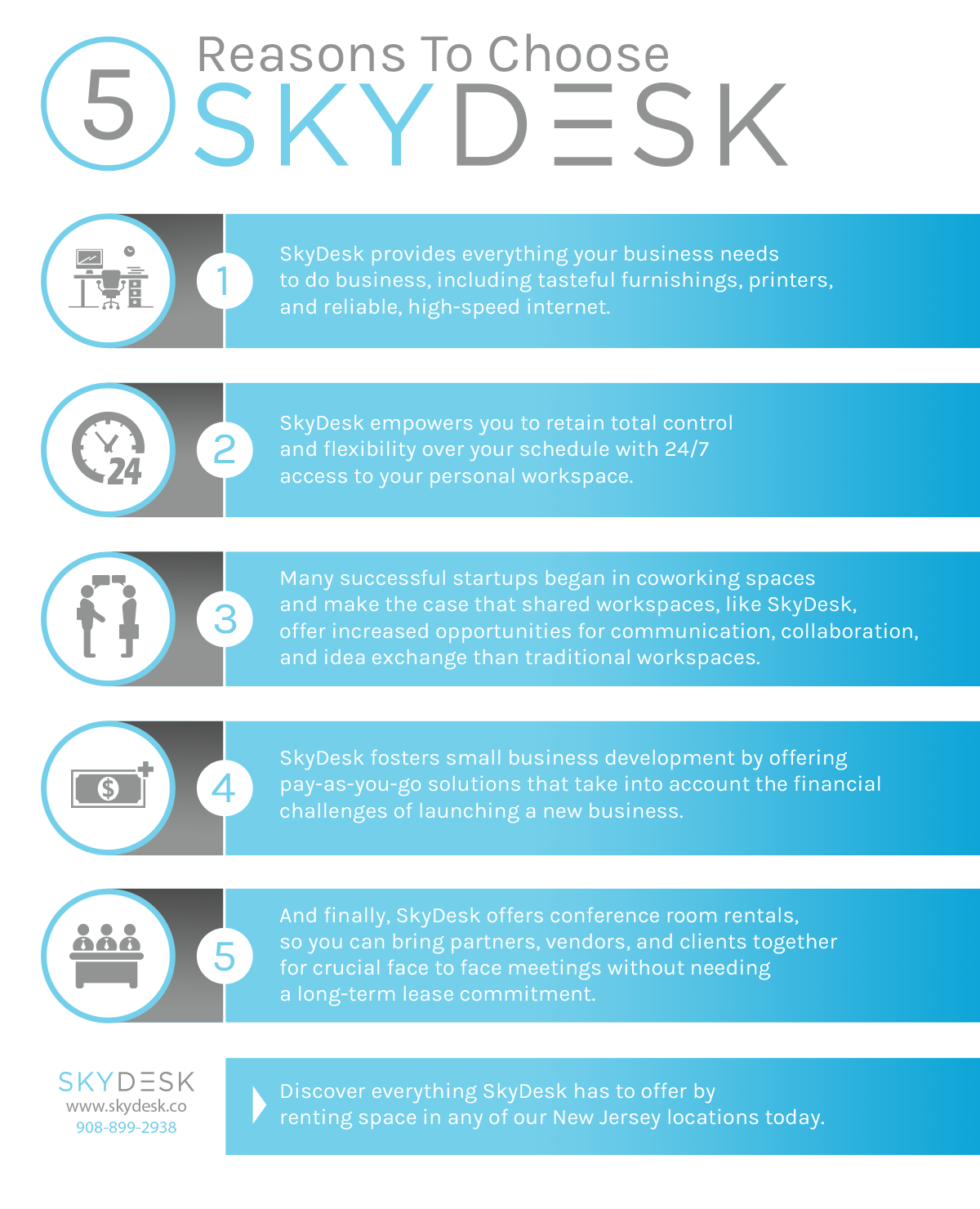 Other Frequently Asked Questions
What kind of amenities can I expect?
Fully furnished offices, A/V ready conference rooms, color printers, color copiers, a clean work environment, and 24/7 access are all included when you rent a workspace with SkyDesk, so you'll have everything you'd expect from a professional workspace.
What If I Need To Work Late?
With SkyDesk's 24/7 electronic access, you don't need to worry about having set hours. You can show up as early as you like and stay as late as you need.
I Have a Small Team. Can a Coworking Space Still Work?
Absolutely. With SkyDesk, your team can combine two share offices, rent multiple offices, and make use of the conference room rental option as often as you need. As a matter of fact, it's not uncommon that we house small, but growing teams of workers as they transition from our coworking space to a dedicated facility or office.
What Happens If I Can't Afford The Lease?
One of the biggest challenges of starting a business is managing cash flow. The financial demands of marketing, product costs, and hard capital like computers and branded clothing for your business, when combined with unreliable revenue as you build your customer base, can make successful budgeting tricky at best. With the pay-as-you-go monthly rental options at SkyDesk, you can rent space when able or needed, and simply not rent space in months when you need to tighten your belt. This works in favor of both struggling startups that need financial flexibility as well as businesses bordering on success who need to rapidly move to a larger or more tailored space for their business.