Expectations for Coworking Spaces After COVID-19
June 22, 2020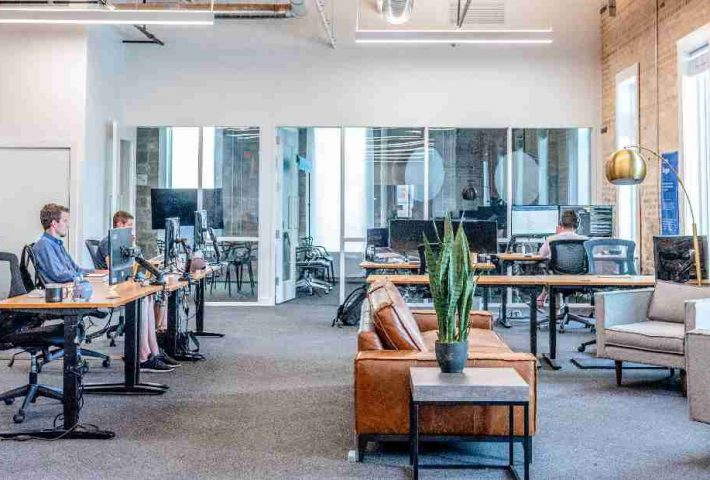 Due to COVID-19, New Jersey's vast network of coworking spaces have had to find creative ways to support our customers. Places designed for community, networking, and conversation like shared office spaces are not ideal for preventing the spread of the virus and have experienced a negative impact due to the pandemic. People still come in, but many people choose to work from home now for safety. For those of you who do still come in, there are new norms and policies in place to ensure everyone's safety.
SkyDesk requires all members and guests to have face masks they can put on before entering. People who have experienced symptoms like cough, shortness of breath, or difficulty breathing are not allowed on the premises, for the safety of everyone.
We also follow New Jersey's six-foot social distancing mandates and encourage all members to social distance as much as possible. We have ramped up our cleaning and disinfecting processes as well, to reduce the risk of the virus spreading. We encourage all members to wash their hands with soap and water regularly.
However, even though shared office spaces have taken an economic hit due to the coronavirus, there are some signs that, when the threat of COVID-19 begins lifting, the coworking industry could emerge out of the crisis stronger and more popular than ever.

Why Coronavirus Virus Won't Kill Coworking Space
The obvious logical prognosis is that coworking spaces will become less popular after COVID-19, while private offices and working remotely will increase in popularity. In the short term, that is undoubtedly the case. However, in the long run, demand may return with a vengeance. Why is that?
#1: The Rise of Telework
COVID-19 has transformed hundreds of thousands of businesses, leading many to embrace remote work as an essential component or even the core of their business. This means that more and more people are working from locations other than where their employer physically is located. Key to the success of telework is having a space to work remotely from. As working from home is not always an option, and private offices are often far too expensive for most people, that leaves coworking spaces as the best option available for a great many people in the workforce.
As offices become less dense, more and more people will be working from somewhere else. After months of being on lockdown, many people will get sick of working from home and want to work from somewhere where they can be around people, bounce ideas, and have other resources to help them do their work better and feel happier. If you are in New Jersey and looking for a place to work outside your home that takes COVID-19 seriously and also offers all the traditional benefits of working with in a shared space, as well as a gym, cafe, and 24/7 access, schedule a remote tour with SkyDesk in New Jersey today! We have locations in:
Morristown
Somerville
Livingston
Parsippany
#2: They Foster Small Businesses
COVID-19 has led to jobless claims exceeding 20 million in the month of May alone. Hundreds of millions of people have lost their jobs in the United States due to the large-scale closure of the economy. It will take time for those jobs to be recovered — it is certain that many of the people who lost their jobs will not get them back. Many people will be left with no choice but to start their own business. Working from home or from one's garage is not always an option. In many cases, the best bet for people to find a quiet, safe, well-supplied, and all-around helpful place for starting a new venture is to rent a coworking space. Coworking spaces are much more affordable than private offices and offer people a better position to coordinate their professional efforts for greater chances of success, as they make coordinating one's resources more effective and allow individuals to focus better on their professional efforts.
#3: They Provide Community
Working in close proximity is not necessary for the creation of a community, nor is it necessary to collaborate with others face-to-face in a coworking environment. Due to the built-in collaborative character of coworking spaces, they are going to be an important part of the economic recovery following the COVID-19 recession. When it comes to creating more jobs, coworking spaces can play a massive role.
Coworking Spaces After COVID-19
At first glance, one may expect that coworking spaces will take a long time to recover after COVID-19. This may end up being true, but there are some reasons why shared office spaces may actually become more important afterwards. With more people becoming entrepreneurs, more business supporting remote workforces, and the greater importance of tele-business, coworking spaces may actually end up becoming even more popular as the recovery gets under way.
Business owners, entrepreneurs, and workers will need to network and connect locally after COVID-19 more than ever. We're already seeing this, as communities rally around their local businesses through gift cards, online services, and other means. After the period of lockdown ends or is largely lifted, things won't suddenly go back to the way they were. Many businesses won't open for some time, and some may remain permanently stymied. The strength of your local community and collaborative business efforts is what is going to make or break a business — and that is exactly what coworking spaces foster; coworking spaces act as local hubs for professionals to meet, collaborate, and work together for their mutual improvement and the improvement of their communities.
So if you are in New Jersey and are coming out of lockdown and are now looking for a place to start rebuilding and working together with other people — some in similar positions as you, some better off, and some worse off — join one of SkyDesk's coworking spaces today. We provide professionals a space to go where they can be safe and productive. Read our COVID-19 Re-Entry Plan to get a full picture of how we are keeping our members safe. Through basic practices like social distancing and masks, along with recommended in-space behavioral changes and design considerations, we are committed to providing a space for post-COVID-19 recovery to occur and for you and our local communities to thrive. Call us now for more information.