What You Should Consider Before Renting Office Space — Part I
June 23, 2020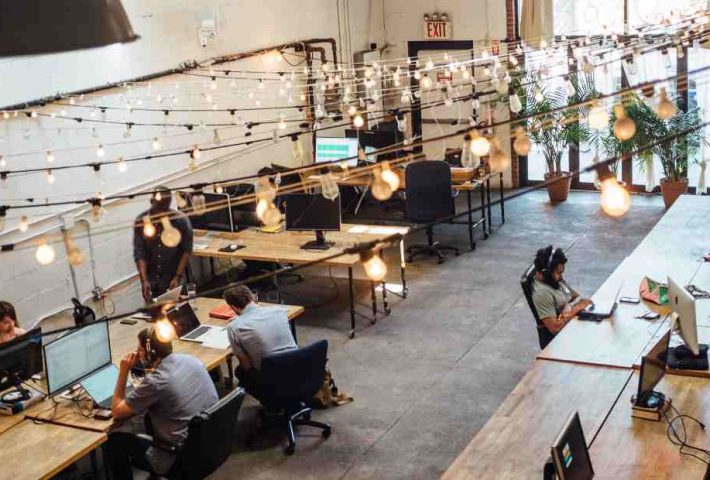 Renting your first office space can be a big turning point for your business. Perhaps up till now you have been working from home, or maybe you have been working in a smaller coworking space, but now you want a place with greater customization and better support for your whole workforce. Coworking spaces are workspaces that are rented out to multiple individuals and small companies, while office spaces are larger and more customizable for your specific business and growing team. However, the two overlap somewhat, and here at SkyDesk we can provide you with both coworking spaces and office space, as well as a hybrid situation, in the following New Jersey cities:
Morristown
Somerville
Livingston
Parsippany
If you are in any of these locations and are looking for business space for rent, contact SkyDesk today to schedule your free virtual tour!

Tips for Renting Your First Office Space
A SkyDesk workspace is the perfect professional oasis for everyone from the coffee-shop freelancer to the inspired business entrepreneur. At some point in your career, you may end up requiring your own office space. Here are some things to think about to help you choose the right office space for your specific needs.
Stay Close
If your business or team absolutely must have office space, then likely one of the most important considerations is location. You need a location close enough for all staff members to be able to commute to work within a reasonable time. If you don't have a team yet but are preparing to hire people soon, location is important to consider from the perspective of being close enough to a populated area with a large talent pool.
Consider What You Want to Be Near
Do you want your office to be next to a cafe or a restaurant? Maybe for business purposes, it makes sense to get an office next to a bank? Considering what amenities you want your office to be near can help you decide which office you will ultimately rent out.
Make Sure It Is Accessible
Especially if you are going to be seeing lots of clients at your office, the accessibility from public transportation, highways, and into the building are all factors that make a practical difference.
Budget Responsibly
After you decide the location at which you want to have an office, the next major concern is money. How much money you can spend on office space is going to be factored into your overall business expectations. Don't choose an office that is going to put you significantly in debt and that will stunt the growth of your business. Account for all your business expenses and budget for office space that allows you to comfortably work there, without straining your finances.
Budget for Extra
When budgeting for office space, make sure you leave some overhead for extra expenses. Renting office space can involve other expenses like utilities, snow removal, and more. Make sure you clearly understand what is included in your rent and what you have to pay in personal expenses.
Don't Sign a Lease Without Complete Clarity
Going off that previous point: make sure you understand what is in the lease and what isn't included. The lease should spell out whether you will be paying for utilities or if they are included in the rent, along with many other things, like who is responsible for repairs. If your landlord is responsible for repairs, make sure the lease includes a clause stipulating that they take care of them in a timely manner. If you are responsible for repairs in the office, make sure you save some extra wiggle room in your budget to account for those potential costs.
Consider Security
Security is always worth considering when choosing office space. You want to find a building that ensures your employees and their belongings remain safe and secure. You may also want to find a place that has a security guard, for extra protection.
Consider What Your Team Needs
Don't go out and rent office space too small for the number of people on your team. Conversely, don't pay for more office space than you actually need. However, with COVID-19 restructuring how we organize businesses, a slightly larger office space may be just what is called for to help ensure that employees can maintain six-feet of social distancing while in the office. You may also want that extra space if your business continues to grow. Even if you just have a few extra cubicles or meeting rooms, that extra space will come in handy later when you start hiring more people.
Decide Your Office Layout
Do you want your business's workspace to be more open or modular? Different teams may prefer different set-ups. Think about what type of layout would best suit your team and provide your employees the best set-up for their and the business's success.
Consider Parking & Storage Space
One easily overlooked factor when renting your first office space is the parking situation. Not all office spaces come affixed to sufficient parking space for the number of your employees, clients, and guests. Make sure that you choose an office space that has enough parking space — for cars and bikes — that is also safe and secure.
Consider the Aesthetic
How will your office appear to your team? How will it present itself to others? Whether you implement your brand vision throughout your whole office or you leave your building falling apart conveys clear messages to fellow industry professionals and clients. However, over-extending your budget and lavishing it with design elements could be a mistake as well, as there are more important things to invest in, especially if your business is just getting underway. SkyDesk offers modern office spaces very different from the traditional drab, grey offices of our parents.
Get Office Space You Can Rely on in New Jersey
SkyDesk offers secure, clean, fully-furnished office spaces for burgeoning new businesses in Morristown, and Livingston. We have a number of different office types available, suitable for every business's needs. Ready to get started with your new location? Contact SkyDesk today for a virtual or in-person guided tour!  We look forward to speaking with you soon!
Read Part II of this two-part series on things to consider before renting a new office space.