8 Reasons To Use a Coworking Space Instead of Renting Office Space
August 12, 2019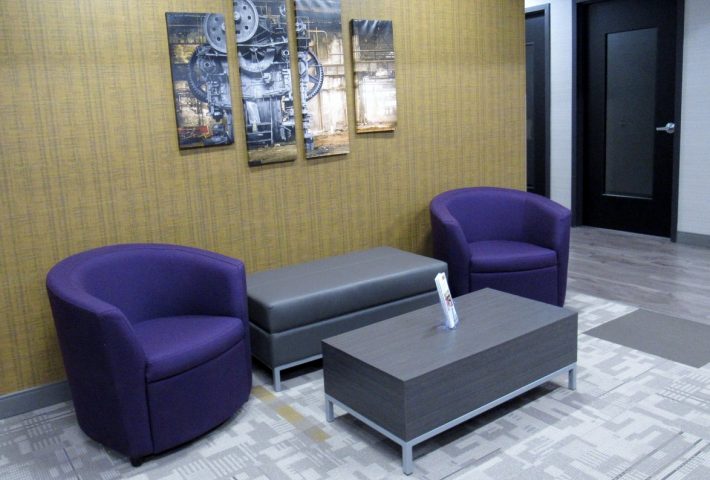 When you first take a look at the title of this article, you might be thinking "what's the difference  between coworking space and office spaces for rent?" They're both spaces that you're renting, so do you really have to decide which would be the best kind of space for you? 
While they might sound similar, there are many differences between renting a coworking space and renting office space that we're going to get into in this article. But first, let's take a look at what we mean by each:
Coworking Space

– A building where workspace is rented out to multiple individuals and/or small companies. These spaces range from single desks to entire offices. The building owner takes care of the space and supplies many of the amenities. 

Office Space

– Space that is rented in a building by companies looking for their own separate location, able to control that space by decorating and organizing it to their liking. The company has more responsibility when taking care of the space. 
Now that we've provided a definition showing how each of these is different, let's take a look at the ways in which a coworking space often beats having a private office space.
Utilities
The cost of utilities can really add to the cost of doing business. There's the high-speed internet, water, heating, and electricity that all have to be taken into consideration when trying to decide between a shared office space and renting an entire office space. With SkyDesk, all of that is covered, and you'll probably end up getting a better internet connection if you go with a coworking space than you'll get from buying your own.
Oh, and let's not forget the hassle that it takes to get all of these set up. When you rent your own office space, you have to get all of the utilities set up. You might have to wait days until the technician comes to get everything up and running. And you might have to pay setup fees on top of that. When you work at a coworking space like SkyDesk, utilities are included and ready to go the first day you start working.

Hardware 
It's not just the intangibles like heat and electricity that you have to secure on your own when you rent your own office space. You'll also have to purchase all of the hardware that it takes to get an office running. This includes light bulbs, printers, refrigerators, phones, and maybe even new locks for the doors.
If you choose a shared coworking space like SkyDesk, these are the extras that you don't have to worry about. Most people who use our coworking space just show up with their laptop and they're off and running in minutes.
Furnishings
In addition to the cost of hardware, you also have to take the cost of furnishing into consideration if you're thinking about choosing the standalone office space option. If you rent office space in Livingston, Morristown, or Parsippany, you'll almost certainly be getting an empty room. That means you'll have to purchase desks, chairs, filing cabinets, and the like. If you partition a part of your office space off as a meeting space, you'll have to furnish it with a big table, more chairs, and a presentation television. 
We can provide all of these when you work with SkyDesk! We have chairs and desks at the ready, and you can also choose one with a lockable filing cabinet. You can also sign up for time in our meeting rooms, which come completely furnished so that you can have clients over and impress them.
Cleaning
Cleaning an office can be a big deal when you choose to rent a larger office space. Which office cleaning company do you go with? Do you do it yourself? (If so, add the cost of a vacuum and cleaning supplies to the "Hardware" section above.) How often should it be done?
If you choose to work at a coworking space like SkyDesk, you don't have to worry about it at all! We take care of the cleanup, so your space is always clean. That includes your desk, conference rooms, and the common areas.
What's the cost of this? Nothing really. We pay for it from the combined rents we get from all of our coworkers, so it's all built into what you pay on a month-to-month basis. Wait, did we just say "month-to-month"? We certainly did, so let's talk about it…
Month-To-Month Rent
If you choose to rent a large office space, there's no way they're going to let you rent month-to-month. At the very least, you might have to sign a lease for six months, but it's much more likely that they'll need you to stick around a year. 
Not so at our coworking space! We don't need you to sign long-term agreements with us, and in fact only need a month's rent to get you started. You won't be stuck in a long lease and have to pay for space even if — worst case scenario — your business doesn't last long.
On the other hand, what if your business is doing great after a year and you need additional space? You might want to hire more people and move into a larger building, but you're stuck in a year-long lease in a space that's too small for you. Such a situation shows just how nice it can be to be flexible. 
Security
Security is another expense, like utilities, that many people don't consider when renting office space. But it's important to keep your office space secure, and that could mean spending quite a bit of money hiring a security company to stop by every night.
When it comes to our coworking spaces, security is just one more thing that you don't have to think about. We'll take care of it, and you'll still have 24/7 access to your office space.
The Benefits of Community
The benefits of having a community can't be overstated in a coworking space. When you choose SkyDesk, you'll be working with people you might not have met otherwise. This can lead to all sorts of business opportunities and ideas that might never have been realized if you secluded yourself in a private office space.
Are You Ready To Work With SkyDesk?
Are there times when it's better to have a stand-alone office space? If you absolutely have to have a storefront, then sure, looking for office space for rent could make sense. But in most cases, a shared office space like SkyDesk is the better option for starter businesses. Click here to schedule a tour of our workspace!