Finding the Right Office Space Rental in Parsippany
March 14, 2019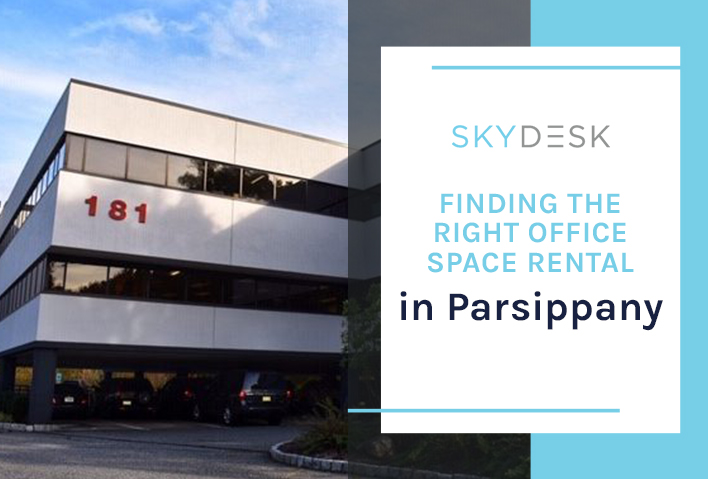 Whether you are just getting your feet wet in the small business world or you are a seasoned entrepreneur, one thing is certain: you need an office space that works for you and your team in order to succeed. A home office might work for some, but for others, a shared workspace is ideal for a variety of reasons. If you are searching for an office space rental in Parsippany, look no further than SkyDesk. Our top-rated co-working spaces will change the way you work, and we would love to provide you with a tour of our newest shared workspace, which is conveniently located near the Essex Freeway and I-46. Contact us today to get started, and in the meantime, check out five things to consider as you search for the right office space for rent.
5 Considerations for Office Space Rental
Accessibility and Location
One of the great things about working from home is having the ability to access your work 24 hours a day, seven days a week. Although this can be convenient, it can also be a detriment to those who have a hard time maintaining a desirable work-life balance and it can leave you feeling like a bit of a hermit. Having an off-site office space rental that is conveniently located and easily accessible at any hour of the day provides professionals with a great solution, as it provides a dedicated place for you to work outside of your home anytime you want.

Type of Space Needed
The workspace needs of a single individual vary greatly from those of a 20-person team, and as you search for an office space rental in Parsippany, you will want to keep in mind the type of space you need to accommodate your business. Here at SkyDesk, we offer a wide variety of workspace solutions and we are happy to work closely with you to help ensure you get the best workspace for your needs. From single desks and conference rooms for rent to private offices, we have you covered.
Potential for Growth
As you are thinking about the type of space that you need, it is also a good idea to do a little bit of forward thinking. By that, we mean you will want to consider how much potential your business has for growth in the near future so that you can find an office space rental that you can grow into. After all, the last thing you want to do is find the perfect shared workspace only to outgrow it a few short months down the road. SkyDesk understands the needs of growing businesses unlike anyone else, and we are happy to help you find the right office space for your current and future needs.
Office Amenities
Who says that your day at the office has to be all work and no fun? When you are researching shared office spaces in Parsippany, be sure to pay close attention to the different types of amenities that are offered at each one. You want to choose an office space rental that checks all the right boxes, and SkyDesk will do just that. From our spacious, fully furnished, modern office space with windowed offices to the free parking, mail and package delivery, and high-speed internet and printers, there are plenty of amenities at our Parsippany office space rental to make your stay worthwhile.
Social Aspect
Last but not least, there is nothing quite like surrounding yourself with like-minded entrepreneurs who share your desire for success. This is one key element that is missing from your traditional home office, and one that you will surely appreciate when you find the right shared workspace for your business. When you set up your workspace in an office space rental, you'll be surrounded by other hard-working professionals. Not only does this go a long way in making you feel like you are part of a team, but it also helps prevent the cabin fever that can set in when you work from home.
Searching for a Parsippany Office Space Rental?
Are you tired of the seemingly endless distractions that come along with working out of a home office? Has your team outgrown your current leased office space? These are just a few reasons why local businesses choose SkyDesk for their office space rental in Parsippany. Our shared workspace is conveniently located, can be accessed 24 hours a day, and have incredible amenities to make your work as easy as possible each day. We offer flexible workspace options, including Dedicated Desks starting at just $350 per month. We are also happy to offer Private Offices for as little as $625 per month. The sky's the limit when you choose SkyDesk!
Contact us today to request a tour of our Parsippany office space rental — we look forward to hearing from you!