5 Reasons to Consider Renting a Shared Workspace
March 01, 2019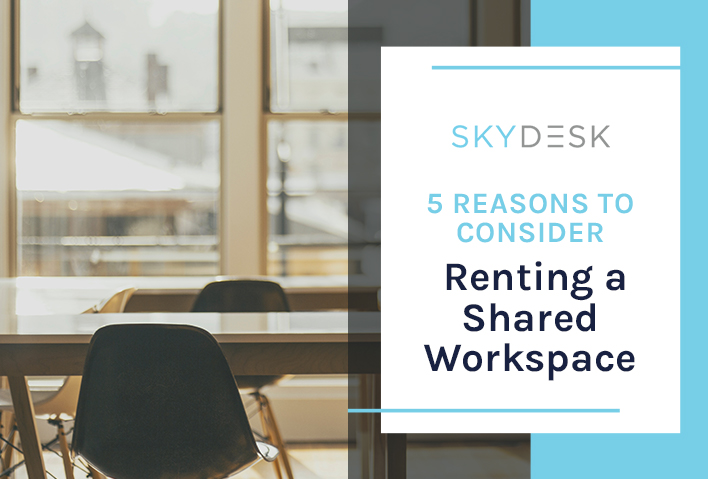 Business owners and entrepreneurs must constantly remain flexible to succeed in today's ever-changing, highly competitive workplace. The office you work out of is just as important as the services you provide, and your office space provides your customers with a visual representation of your company. As such, SkyDesk is here to help everyone from up-and-coming professionals to established companies find the best shared workspace for their unique needs. Contact us today to learn more about our office space rentals in Livingston, Morristown, and Parsippany. In the meantime, continue reading to discover five incredible benefits of working out of a shared workspace.
Benefits of Renting a Shared Workspace
Flexibility
Office space rentals offer a certain amount of flexibility that traditional office spaces can't. This is because many commercial office spaces still revolve around antiquated business practices, such as requiring a one-year lease and a deposit from their renters. This can be cost-prohibitive for many start-up companies, limiting your options before you even get up and going. Many shared workspaces offer flexible payment plans and private office memberships with no upfront fees.
Cost Savings
Speaking of costs, renting a shared workspace might seem like a luxury that your company can't afford, but in truth, you could actually end up reducing business-related expenses by renting an office space. When you rent a shared workspace, you don't have to worry about buying office furniture or other equipment like phones, and you don't have to worry about hiring a cleaning crew to keep it tidy.
Networking Opportunities
Renting a shared office space can be a wonderful opportunity for young entrepreneurs in particular because of the abundant networking opportunities that are available. You'll be working side-by-side with like-minded business professionals when you rent an office. That means you have a number of individuals that you can bounce ideas off of and glean information from, all while gaining valuable insight into other components of the business world.
Room to Grow
If you are just getting your feet wet as a business owner, you never know where your journey will take you. It is possible that your business could outgrow your home office space faster than you expect. When that happens, you need an office space that can accommodate your growth quickly and affordably without interrupting your operations. A shared workspace can do just that because it offers a number of flexible space options.
Convenient Amenities
Last but not least, today's discerning entrepreneurs demand high-end amenities and today's shared office spaces don't disappoint. Most shared workspaces provide all of the luxuries of a home office or a traditional office, and some even have added perks like on-site gyms and cafeterias. At the very least, you can expect to have access to all of the technology and equipment you need to complete your day-to-day business tasks.
Looking for a Shared Workspace in New Jersey?
Are you searching for a cost-effective way to take your new business to the next level? Are you looking to cut overhead costs for your already-established business? SkyDesk is here to help! We offer high-quality shared workspaces in New Jersey that provide you with the flexibility, savings, and networking opportunities needed to grow your business. What's more, each of our office space rentals includes a long list of amenities to make the deal that much sweeter. To book a tour and reserve a free trial day in one of our incredible shared workspaces, contact us today!