Why an Office Space Rental Beats Your Home Office
February 14, 2019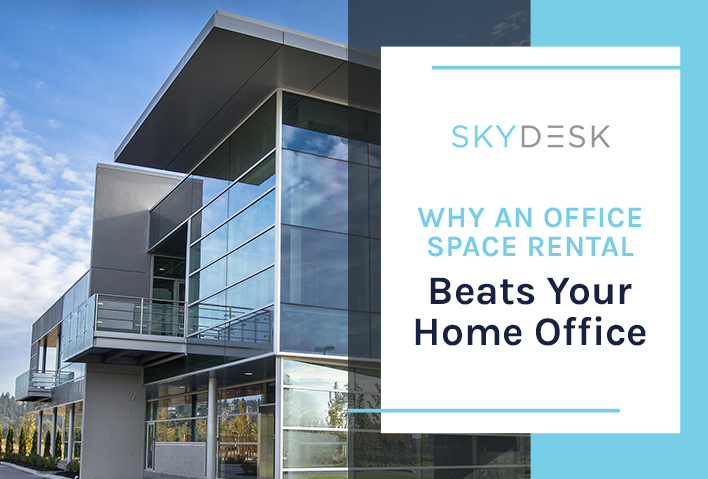 Owning your own business or working as a freelancer definitely has its perks. After all, you are free to make your own schedule, take on the jobs you feel will be profitable, and enjoy various other work-related freedoms. However, there are many decisions that come along with these freedoms, including whether you should look into an office space rental or work out of your home. As the leading provider of shared workspaces in Morristown, SkyDesk is here to provide you with four reasons why securing an office outside of your home can be beneficial for your professional development. Let's take a look at them below.

4 Perks of a Rented Workspace
A Dedicated Professional Space
It can be a challenge to carve out enough room in your home for you to work efficiently and comfortably. This is especially true if you don't have a spare room or if you have young children in your house. With an office space rental, you have the ability to secure your own dedicated workspace in which every feature and amenity has been carefully chosen to put you on the path to success.
Fewer Distractions
There is nothing more frustrating than getting interrupted when you are in the middle of an important task. Unfortunately, the number of ways in which you can be distracted when you work at home is virtually endless. For example, you may need to let the dog out (again), the neighbor kids might be playing loudly outside, or the television in the next room may be a tad too loud. Distractions in an office space rental are kept to a minimum because everyone there has the same purpose as you — work.
Better Work-Life Balance
When you work from home, the line between your work life and your personal life can easily be blurred. Those individuals who have high-pressure jobs or strong work ethics may feel a strong temptation to work additional hours, and when working from home, it is all too easy to find yourself working more than you should. Just another way in which an office space rental beats your traditional home office.
Enhanced Professional Image
Finally, there are some professions which require face-to-face meetings between business professionals and their clients, such as insurance agents or financial advisors. When a client needs to come to your office, you want your workspace to provide the best possible professional image. This is hard to accomplish if your clients have to step over piles of laundry or see the piles of clutter around your house that you have been meaning to get to.
Office Space Rental In Morristown
Are you tired of trying to maintain the boundaries you need to run your business out of your home, or has your work-life balance become unfavorably imbalanced? Perhaps you are frustrated with the distractions and unprofessional image that can sometimes go along with working from home. Regardless of your situation, SkyDesk is here to help. Our office space rental in Morristown provides hard-working individuals with an amenity-filled, modern coworking space. This shared office space lets you put your best foot forward with clients, focus on your work, and network with like-minded professionals like yourself. We would love to help you discover all of the ways in which our workspace rentals can help you.
Ready to get started? Give us a call at 908-899-2938 today or book a tour and get a free trial day now!